Sales | Service | Financing
Full Service Generator Installation
Como Oil & Propane of Florida prides itself on providing turnkey home and commercial generator solutions for customers with a variety of needs. Our talented and professional sales team will calculate your usage and needs during an on-site assessment to build a quote, and solution that fits and solves your generator needs. Rest assured all work will be done with precision and care. Unlike most of our competitors, we do not outsource any installation work. 
We are certified dealers for the two top generator brands, Generac and Kohler, capable of installing and servicing your generator, including warranty work.
Combined with our experience in refined fuel solutions, we are capable of tangentially installing a full home propane solution alongside your generator to ensure your house has power during the worst conditions. 
We offer our customers turnkey service to get the job done right the first time. When you decide to start your next project, make sure to call Como!
Be Prepared for Hurricane Season with Como Watch Program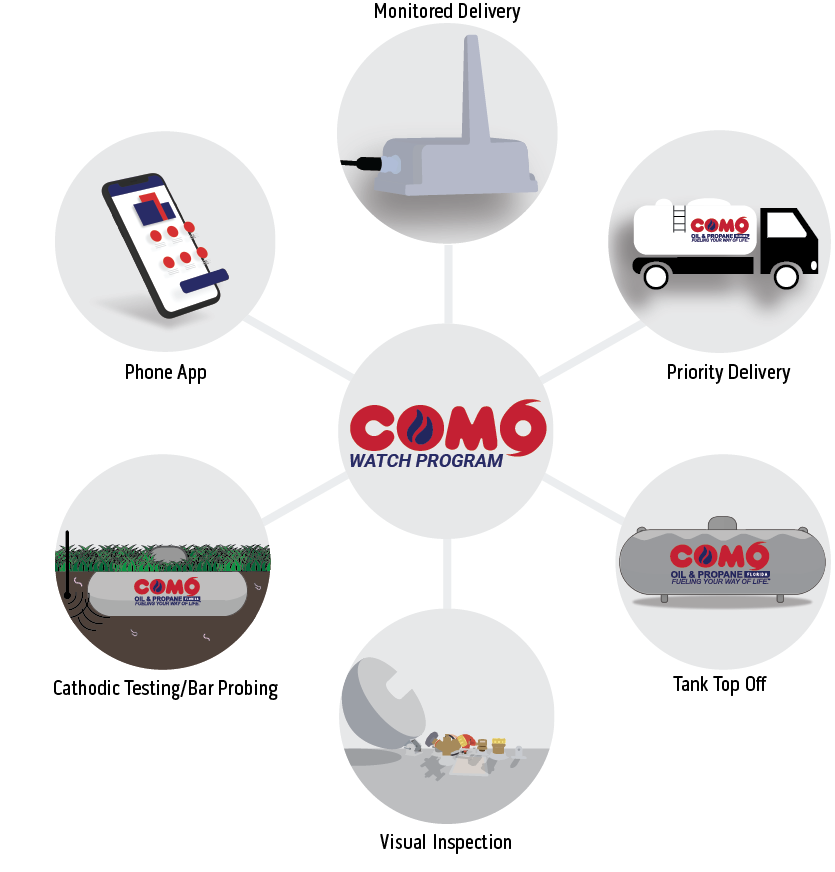 Our Watch Program is designed to ensure you have the propane you need, when you need it. Receive a tank top-off at the beginning of hurricane season and rest assured we've got you covered when the storm hits with priority delivery and tank monitoring software. 
Full Inspection
Oil & Oil Filter Replacement
Battery Replacement
Fan Belt Replacement
Coolant Flush
Parts Discounts
Generator Test Under Load
Emergency Response Time
Gas System Operating Test
Clean Exterior of the Generator
2X
1X
Not Included
Optional
Optional
5%
1X
48 Hours
1X
2X

3X
1X
Every 2 Years
Optional
Optional
10%
1X
24 Hours
1X
3X

4X
1X
Every 2 Years
Included
Included
15%
1X
12 Hours
1X
4X
Como Link - Generator Monitoring
Our Como Link plan is for customers with generator units installed that run on either propane or natural gas. This program involves the implementation of our LTE Mobile link application that allows us, and you, to monitor your generator to ensure proper functionality. Como Link is designed to ensure customers have power in their home when they need it most. Compatible with Generac Generators 2011 and newer up to 60 Kw
Don't be left out in the dark when the storm hits.
OVER 150 FIVE STAR REVIEWS