Since 1967 | Locally Owned | Hassle-Free Bill Pay
Make life easier, even during a disaster, with Como and our Cardlock program. With Cardlock, you can get fuel at any time and get weekly reports of your account spending with our Cardlock stations. With our backup generators and fuel supply strategy, you'll always have access to the fuel you need. Contact us today for more information on becoming a member. 
Diesel Fuels and Gasoline
We carry all grades of gas & diesel. No job is too big or small for us to handle. Focus on your job site and not your fuel needs – we bring the fuel you need directly to you! We offer competitive rates and long-term benefits for long-term contracts
Como Oil Of Florida has been your trusted name in fuel delivery services since 1967. We can deliver your non-ethanol fuel, unleaded fuel, on-road diesel, and off-road diesel directly to your business, minimizing your costs and keeping you fully stocked with the fuel you need to keep your fleet moving. You can also buy or lease fuel tanks from us.
Submit this form and a sales rep will reach out within 24 hours. 
We carry a wide variety of lubricants. In a variety of options Bulk, On-Site, Barrel, and Package. All products are available for pick up at one of offices or can be delivered to you. We even lease temporary fuel tank sets mainly for construction. No jobs too big or too small. Remember Como can do that
Automotive lubricant is responsible for the lubrication of automotive parts to reduce any friction caused in your vehicle.
Industrial lubricant is responsible for minimizing solid-to-solid contact and reduces any amount of friction that would otherwise impede movement and induce wear on construction equipment.
Diesel Exhaust Fluid (DEF) is an emissions control liquid required by modern diesel engines. It is injected into the exhaust stream. We offer bulk orders on site for use. We also offer packaged DEF and access at our pumps.
Get the fuel you need for your boats at a discount. At Como Oil Of Florida, we deliver fuel straight to vessels from Vero Beach to Riviera Beach. We pride ourselves on always being on time, being clean, and doing our best to service your boat even on short notice — and all at competitive prices. We will complete any necessary paperwork that is required.
With our fuel truck and 500-foot hose, we can deliver your diesel fuel directly to your vessel at home or at the marina. We make getting the marine fuel you need seamless and easy so that you can spend more time on the water.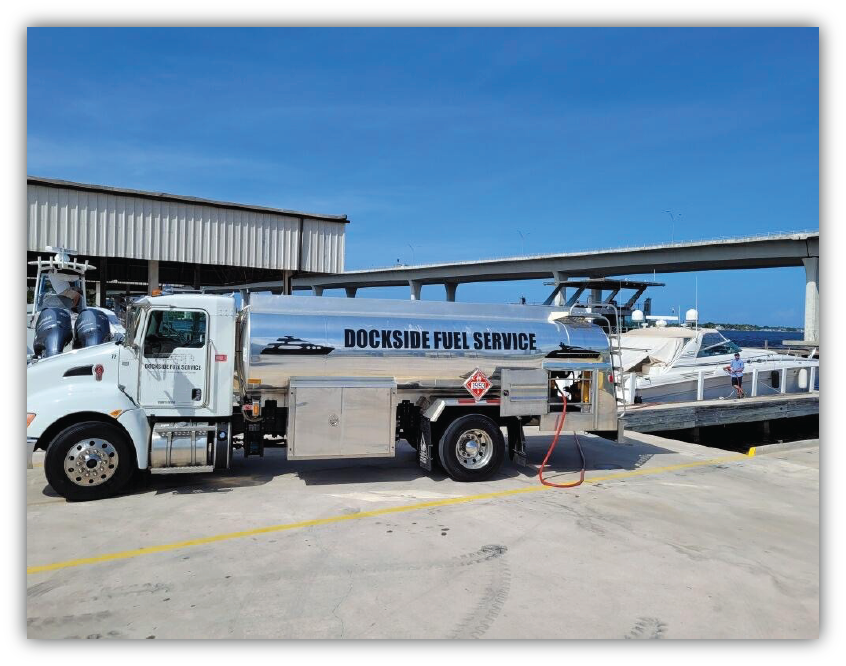 Please email us with any questions you may have.
OVER 150 FIVE STAR REVIEWS